1.25G SFP 120km
The GBE SFP optical transceivers are high performance, cost effective modules. They offer the customer
a range of design options, including optional DDMI, standard or industrial temperature ranges. They
are designed to provide Gigabit Ethernet compliant connections for 1.25 Gbps at short, intermediate
and long reach links. These transceivers are qualified in accordance with GR-468-CORE.
More Details(DS040049)
Part No.

Data
Rate

Laser

Fiber
Type

Distance*Note1

Optical
Interface

Bail color

Temp. 

*

N

ote

2

DDMI

T

SS-GEL2-55DCR

1.25G

1550nm-DFB

SMF

120Km

LC

P

urple

ST

YES

T

SS-GEL2-55DIR

1.25G

1550nm-DFB

SMF

120Km

LC

P

urple

IT

YES
Features:
Operating data rate up to 1.25 Gbps
Distance up 120km
Single 3.3V Power supply and TTL Logic Interface
Duplex LC Connector Interface
Hot Pluggable
Compliant with MSA SFP Specification SFF-8472
Compliant with IEEE 802.3 and 1x Fibre Channel as defined in FC-PI-2 Rev 10.0
Operating Case Temperature
Standard: -5℃ ~+70℃
Industrial: -40℃ ~+85℃
Applications:
● Gigabit Ethernet Switches and Routers
● Fiber Channel Switch
● Other Optical Link
---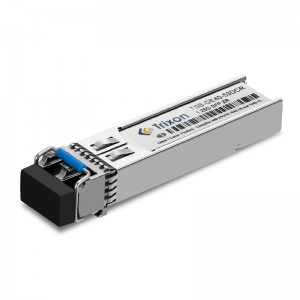 ---
Previous:
XGSPON ONU SFP+
Next:
1000BASE-T Copper SFP
---